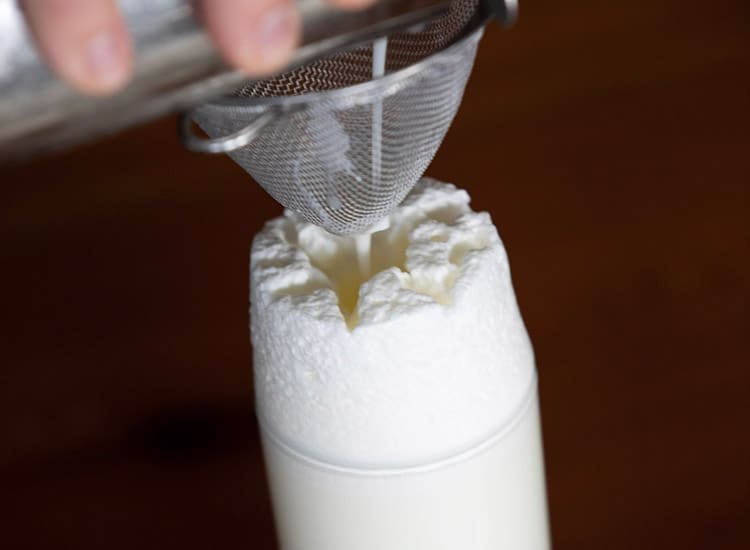 The Gin Fizz became famous in 1800s America. When made correctly, it feels as though you are drinking a cloud. The Ramos Gin Fizz was originally dubbed the New Orleans Fizz and remains one of the most popular drinks in that city today. The original recipe also calls for an Old Tom Gin, so our Barr Hill Gin works perfectly.
Ingredients
2 oz Barr Hill Gin
0.5 oz Fresh Lime Juice
0.5 oz Fresh Lemon Juice
0.75 oz Simple Syrup
1.5 oz Cream
1 Egg White
5 drops Orange Flower Water
Soda Water
Preparation:
Fill a chilled empty Collins glass 1/3 of the way up with soda water.
Combine other ingredients into mixing tin, shake without ice for 30 seconds, then shake with ice for 15.
Slowly strain into the collins glass over the soda water. It will fizz up – stop pouring when it reaches the top. Wait 2 minutes, now slowly pour the rest of it through the middle of the foam. The foam should slowly rise up over the glass.
No garnish and no straw – you should get a foam mustache while drinking this drink!
(c. 1888 Henry C. Ramos at The Imperial Cabinet Saloon in New Orleans)
Quick shop for Barr Hill Gin

Quick shop for Barr Hill Collins Glass