Todd, a lifelong beekeeper, had been caring for bee hives across Vermont and the world. Ryan, a lifelong Vermonter who grew up working in his parents hardware store, had recently started a home brewing supply store and was eager to help Todd.

Distilling with a single 15-gallon direct-fire copper still, Ryan and Todd sent their gin to the New York and Hong Kong International Spirits Competitions, where it won Double Gold and Best Gin of the Year, respectively - the two highest honors.
By the end of 2012, production increased from one batch per week to three batches per day.

They set out on a life's journey to perfect the use of raw honey in the distillery, capturing the countless botanicals foraged by honey bees into a bottle of gin.

The honey would always be kept raw to retain the depth of character of the land.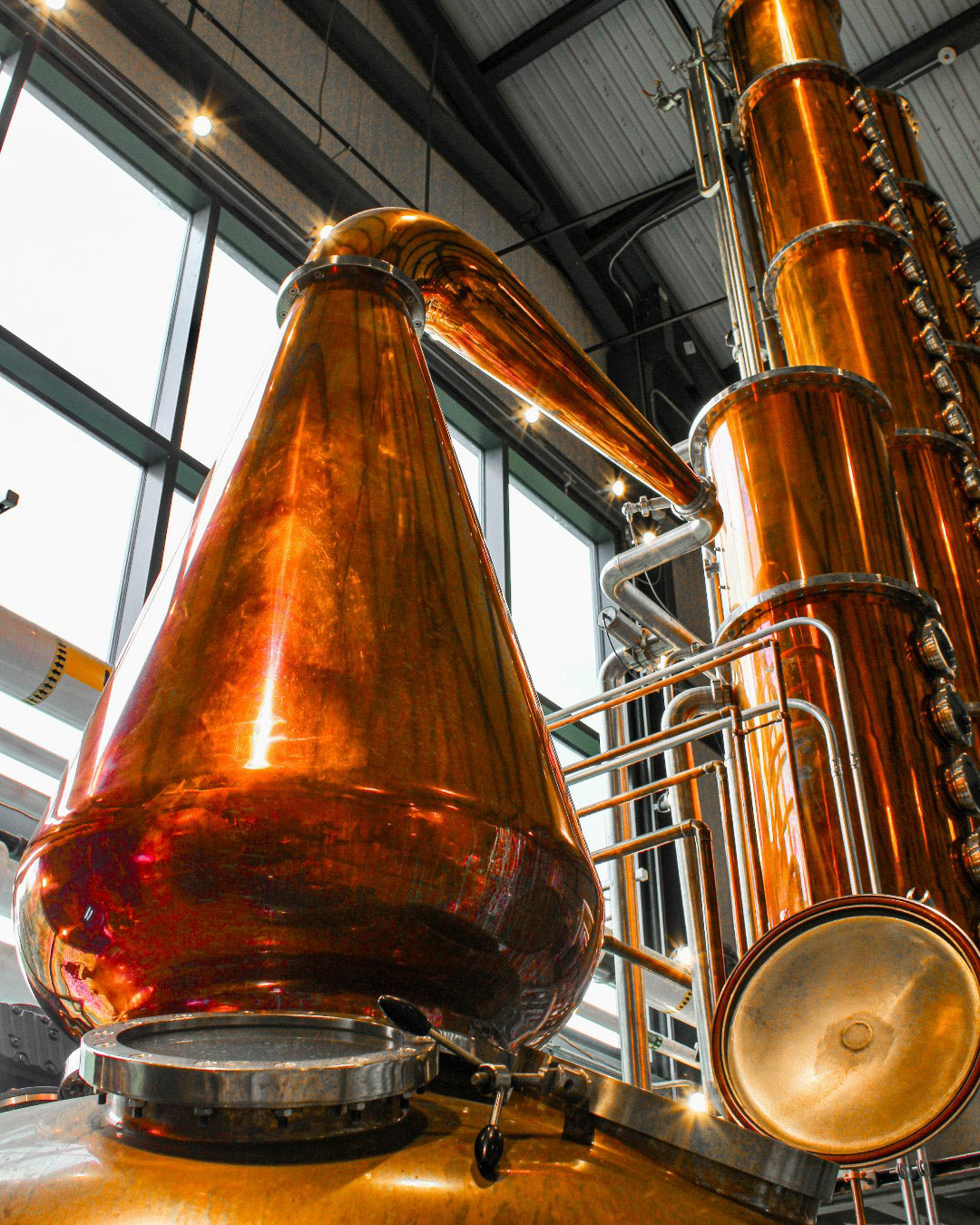 Gin Lane
In June 2019 we moved from Hardwick into our newly built home on Gin Lane in Montpelier. We restored a long neglected brownfield site along the banks of the Winooski River and designed the new distillery from the ground up, emphasizing sustainability, eco-friendly design and renewable energy into every facet of our building and the distillation process.
Our new distillery has allowed us to grow our capabilities, our team and our experience with the community by adding a world class cocktail bar, seasonal farm to table menu and an event space.
Photo: Tall copper still at our distillery in Montpelier, Vermont
"It's easy to make great spirits when you start with great raw materials."
Ryan Christiansen, Barr Hill President & Head Distiller
Barr Hill Vodka

Barr Hill Vodka is distilled entirely from raw honey. In fact, it takes several pounds to make each bottle. As Ryan says, "It's easy to make great spirits when you start with great raw materials."

shop barr hill vodka
Barr Hill Gin

Barr Hill Gin is distilled with juniper in a custom-built botanical extraction still and is finished with raw honey - the delivery vessel for countless other botanicals and a hint of sweetness - to perfectly balance the juniper.

Shop barr hill gin
Tom Cat Gin

Tom Cat Gin is distilled in the same way as Barr Hill Gin, and becomes Tom Cat after it has been aged for 6-9 months in charred and toasted American oak barrels.

Tom Cat is perfect for whiskey drinkers and gin drinkers alike.

Shop Tom Cat Gin